Spoiler alert: Do not read this post if you think you will be receiving a Christmas card in the mail from us and you don't want to see it on our blog before it arrives in the mail. :)
We opted out of taking professional pictures for our Christmas cards this year. BIG MISTAKE! It took me forever to find good pics that were suitable for our card. Then, by the time I made our Christmas card, we decided it was too late to send out a "Christmas only" card and I spent several more hours creating our Christmas/New Year card. UGH! Jonathan is happy with the end product though...and I'm just happy it is d.o.n.e.!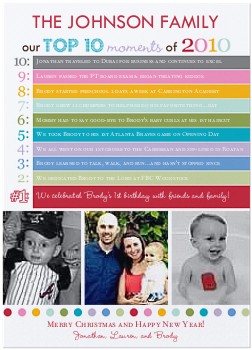 Top Ten Moments Christmas Card
Here is a closer look
(please excuse the poor quality of the copy I saved)
:
Curious about the original Christmas card? Here it is:
I'm not sure if I
really
want to know the answer to this, but do you think we chose the right one???