This week Brody and I, with the help of his Daddy this time, baked some Turkey Hand Print Chocolate Chip Cookies. Brody selflessly volunteered his hand for the cookies, Jonathan helped make the dough, and I frosted our masterpiece. Then we took them to Florida to share with Brody's cousin Ava. Cookies are always better when you share them with a friend!
Feel free to link up if you want to party like a toddler. Please, just grab a button to let everyone know whose crib you're partying at!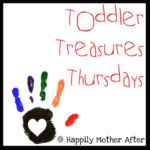 I'm also partying here...