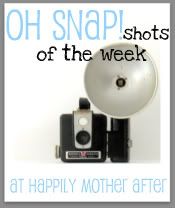 If this is your first time linking up you can check out the details about this party here.
******************************************************
Because I am out of town and have enjoyed being with family way too much this past week to put together a new party today, I decided to continue the party from last week. I hope you guys understand....I think we all just need a break from the norm every now and then. I usually visit each and every one of your entries, but I have also slacked on that this week. I promise I will view them all this coming week. I did glance over the them and noticed we haven't had many votes, so please be sure to vote for your favorite photos. If you don't, how will I know who to award as everyone's favorite next week?!?!
I'm looking forward to catching up with all of you over this next week and seeing all of your creativity flow! You guys are awesome!